HD demolition­debris bucket
The HD demolition debris bucket, as the name suggests, is designed for very heavy duty use in demolition and recycling. For example, breaking up heavy foundations or loading a concrete crusher.
Read more
Quick, tailor-made offers!
Request a quote
Durable

Hardox® application where possible.

Bars

The demolition debris bucket is made of bars that are practically indestructible.

Semi-low side boards

This form of sidewall is the right mix needed to carry out the demolition work properly.
product description
Hd demolition debris bucket
The debris bucket is made for machines from approx. 14 tonnes up to 100 tonnes. The most popular debris bucket is a DP-VA65X1350mm for crawler excavators from 18 – 23 tonnes. Teeth are often chosen for optimal usability in demolition or for loading crushers.
For maximum service life, we mount Esco Teeth Systems. If desired, the more economical CAT System is also possible.
Options:
Adapters with interchangeable tooth tips
Side protection
Material
It is possible to make the HD demolition debris bucket completely out of Hardox®. For even better protection of the bucket, we can also equip the debris bucket with wear buttons, chocky bars and side protection. The blade is also cut from Hardox®.
View our product range here used demolition debris bucket and new demolition debris bucket
Various models
The Pladdet Heavy Duty debris buckets are available in different sizes and with wearing parts of your choice:
Teeth
Chocky bar
Wear buttons
Request quote
View models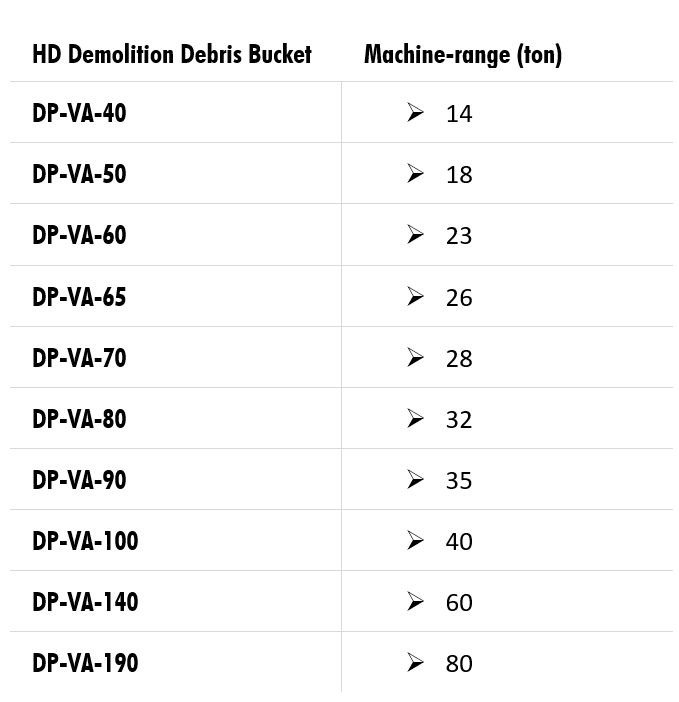 Also interesting?
Others also viewed